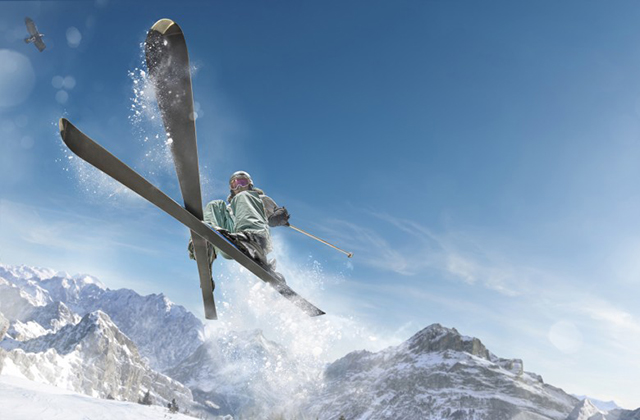 Finding a place that combines romance with winter adventure is a difficult search. However, we have found the perfect location for you sitting in the lap of bald mountains and lush green valley, Sun Valley Ski Resort at Idaho will be your ultimate romantic retreat with your loved one. Experience the wonderful vacation by getting a Canada ski packages at Bluepowder.com.au.
Brief History
After the success of the 1932 Winter Olympics in Lake Placid, New York, winter sports began to see a significant increase in American past time activity. Alpine Skiing by far became the most popular sport. William Averell Harriman, a son of the chairman of the executive committee for the Union Pacific Railroad company, to which Harriman's banking business would be a top financer for the Union Pacific Railroad company after his father passed away on September 6, 1909. Harriman was an avid skier. After several ski trips on the European Alps he wanted to setup a ski resort here in the United States that could equal to the alps and give Americans that experience locally because most Americans could not afford trips just to ski in the European Alps. William Averell Harriman financed a project and hired a surveyor to travel across the western United States to find an appropriate location to build this ski resort. The surveyor was an Austrian count named Felix Schaffgotsch. He made a stop in Ketchum Idaho after a United Pacific Railroad employee informed him that a lot of money was paid for snow removal when the company was extending the rail line through this area of Idaho. Upon surveying the area Schaffgotsch saw huge potential for a mountain resort due to an abundance of snowfall, sunshine, a moderate elevation, and it was protected from the wind. The tallest mountain being Bald Mountain was well as the other peaks nearby provided excellent conditions for skiing. Harriman stopped in to check out the location and liked it as well and approved the purchase of the 3,888 acre land. In 7 months a mountain resort was completed, but it was named Brass Ranch and not Sun Valley. The name was not changed to Sun Valley until 1936.
Getting there
Hailey's Friedman Memorial Airport is 14 miles from Sun Valley village. The airport is sizably linked to all the major American airport hubs such as Seattle (SEA), Los Angeles (LAX) and Salt Lake City (SLC). You can find flights to Sun Valley with Horizon Air and SkyWest. Horizon Air has daily direct flights between Sun Valley and Los Angeles and Seattle. For SkyWest you can fly direct from Salt Lake City. If you are a west coast resident you can be in Sun Valley in 1-2 hours. Upon arrival you can hop on the complimentary guest shuttles that operate between Friedman Memorial Airprot and Sun Valley Resort. If you fly into Boise Airport (BOI) then you can hop on the Sun Valley States charter bus, which have a daily schedule from the airport to the resort. Adult fares will run you $50 each way, children (3-10 years) are $10 each way, and very young children are complimentary. You will definitely want to check the website for Sun Valley Stages for their latest schedule and pricing. Their bus schedule will change based on the summer or winter season. The bus ride will take a little over 4 hours from Boise Airport. The last option is you can rent your own car and explore the area on your own and at your own pace if you want to check out other sites on your way to the resort.
Lodging
The Sun Valley Lodge is a state-of-the art luxury lodge that was built to offer all the necessary amenities a winter sports fan will need. There are 148 rooms that range from the Deluxe room option offering 2-bed or 1-king bed options, rooms offering a balcony with stunning mountain backdrop views, and suite style rooms that can accommodate a small family. The Sun Valley Inn's European décor work makes it a good choice too. Condominiums are an interesting mix of ease and inexpensiveness. Cottages could also be your preferred option, which are splendidly made with every luxury you can think of!
Featured Attractions
The Sun Valley Resort is a state of the art dream come true for any win any winter recreation enthusiast regardless whether you are a total novice or at the advanced expert level. It is a 58,000 square foot facility that sits behind the lodge and offers everything from a fine dining restaurant, lounge, bar area, ski & equipment rental. It provides all the amenities to give visitors the true ski resort experience. If you and your sweetheart are coming here to ski for the first time then the Nordic Center offers a ski package for around $40 that includes both ski instruction from professional skiers and your ski rentals. Falling down is just a part of learning the nuances of skiing, but watching your sweetheart fall on her bum makes for more memorable fun. If you want to try something easier rent out two pairs of snowshoes and head out to one of the many groomed trails. The resort boasts 40 km of trails that where some trails offer gentle terrain for you to snowshoe with your partner and explore the winter wilderness. The resort also offers a sleigh ride and dinner at the Trail Creek Cabin package. The sleighs are pulled by horses that depart from the Nordic Center and take you through scenic the wilderness arriving at Trail Creek Cabin. The rides run three times a day at 5:45pm, 7:00pm, and 8:15pm and will take about 30 minutes. Upon arriving you will get a chance to dine on delicious foods and an opportunity to try some of the locally caught game meat. It will be a great experience for two people to share. You will have plenty of things to do for entertainment around the village area. If you head over to the Sun Valley Duchin Lounge they have live jazz music every evening and you and your partner can order up some cocktails and take in the sounds or if you love to dance then head on over to the dance floor. Whichever you choose you will not want the night to be over until the restaurant has to close. It is okay though because the lounge is open until 1am. Not bad, right? In the village center this resort town has a charming Opera House that can seat about 340 guests. When there are no shows it doubles as a movie theater. Call the Opera House at (208) 622-2244 and get information on the latest events and show times. Once you are tired you can retire back to your Sun Valley Resort Parlor Suite and cozy up with your beloved on the couch in front of the fireplace wondering to yourself it probably does not get any better than this.
Places to eat
Sun Valley Lodge Dinning room makes for an interesting dining experience. It is the only place with live music and dinner dancing. The other places that you can get wholesome food are Lookout Restaurant, Dollar Cabin, Ram and many more.
B H Yao invites new and seasoned travelers from the online community to read original articles on travel tips, vacations for couples and families, world travel at World Travel Guide. Come on by for more great updates on North America Dude Ranch Vacation
Article Source: http://EzineArticles.com/expert/B_H_Yao/579215
Article Source: http://EzineArticles.com/4757848