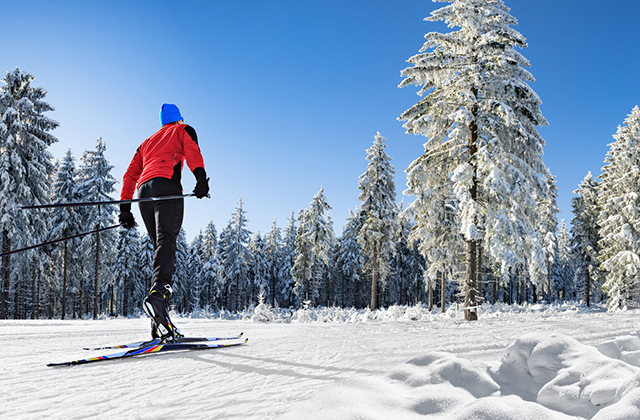 Today I was doing a Google search on some of the best skiing leg exercises. Panorama resort is so magical for those interested in ski Canada adventure.
I was shocked by some of the recommended ski fitness programs and the exercises that were recommended.
Not only was most of the information coming from people whose qualifications were impossible to find, but the suggestions that they were making could actually get a person hurt.
(Note: If you're wondering what my qualifications are, I've been an NSCA-CSCS (Nationally Certified Strength and Conditioning Specialist through the National Strength and Conditioning Association) since 2001. My background is in developing effective fitness programs for athletes and athletic teams.)
I'm sure you're wondering what the suggested exercises were and if you are currently using any of them in your program.
Here's a short list of the one's that might actually hurt your program:
Knee Extensions
Leg Curl Machine
Leg Press or Hip Sled
Smith Machine Squats
And, I bet you're wondering why you should avoid these exercises, too.
Let's look at them one at a time.
1) Knee Extensions
Most people are familiar with this machine. You sit down, lock your legs in place and then extend at the knee by using your quadriceps (top of the leg). Not only is this not a motion that you'll be using on the slopes, but it puts undue pressure directly on the knee joint. Is it important to have strong quads when skiing? Yes, but the wear and tear that you'll experience over time in using this machine for skiing or for any reason will outweigh any potential benefit.
Recommended Alternative: squat and lunge variations
2) Leg Curl Machine
If you're going to use either exercise #1 or #2, the Leg Curl Machine is the better option, but still does very little to directly improve your fitness for skiing. What is good about the focus on this muscle group is that most people are quad(ricep) dominant and do need to spend more time strengthening the back of the body (posterior chain) including the hamstrings. However, this exercise in particular focuses on activation of the hamstring through flexion of the knee joint. For ski performance and injury prevention, it will be far more important to focus on activating the hamstring through hip extension exercises. Greater stability and strength at the hip will provide for better cushioning on your landings and will help to stabilize the knee helping to prevent some of those unsightly injuries.
Recommended alternative: deadlift exercise variations
3) The Leg Press aka Hip Sled
Most people are familiar with this type of machine. Normally, we'll see 2 versions – one where you are seated upright and are able to push a platform directly in front of you, and the second where you are in a lying position with the weights positioned above you at an angle. One benefit of the leg press is that it allows you to increase the resistance of the exercise by adding more weight. A second important factor to note is that the leg press exercise is a compound movement (you are moving at both the hip and the knee). What detracts from the benefits of this exercise are 1) the fact that you are in a lying or seated position, and 2) the positioning of the seat can create excess stress on your lower back because of the unnatural movement pattern it forces you through. Hopefully you'll never be lying down or sitting on the slopes, unless it's just for fun. Unnatural movement patterns mean that your body is moving in a way that it was intended to or is not functional to the desired result. The amount of flexion at the hip for the weight being moved is what can create excess stress at the back. Picture doing a squat while leaning forward. Now picture that same squat, still leaning forward, but with x number of pounds on your back. Ouch.
Recommended alternatives: squat and lunge variations
4) Smith Machine Squats
If I had to choose one exercise out of all of these to use with someone preparing for skiing, it would be the smith machine squat. It is the most functional in terms of the positioning that you'll be using on the slopes and it is an example of a compound exercise where you'll be activating the muscles around the hip and the knee at the same time. What is undesirable about this exercise is that it, too, forces unnatural movement patterns at the hip and lower back. These unnatural movement patterns can compound the impact of existing imbalances at the hips and lower back, and then spread to other joints of the body.
Recommended alternatives: squat and lunge exercise variations
Adjusting Your Skiing Fitness Program
Take a look at our blog post '3 Leg Training Exercises for Skiers' for samples of what you can add to your existing program to help get you better prepared for the slopes. For our complete 6-week ski fitness program see the offseason ski program where you can get our "10 Stretches Every Skier Should Know" for free and also get a members only discount on the 6-week program.
David Bohmiller is a Certified Strength and Conditioning Specialist (CSCS) through the National Strength and Conditioning Association (NSCA). His Off-Season Ski Program has been used by hundreds of men, women, and competitive skiers to gain an advantage on the slopes and ski with fewer aches and pains and with stronger muscles.
Article Source: http://EzineArticles.com/expert/David_Bohmiller/205061
Article Source: http://EzineArticles.com/2389499